The Divvy Bike system is one of the best new ways to get around the city on a budget. Divvy Bikes are one of the nation's most successful urban bike sharing programs.  Basically, you sign up, find a Divvy Bike station near you, enter A code, grab a bike and you're off! Chicago has a gigantic network of more than 580 Divvy Bike stations that you can pick up and return your bike to.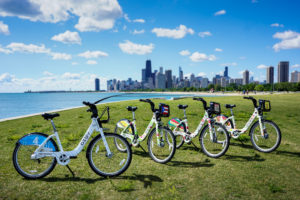 Whether you don't have a car, are looking to explore the city on bike or just want to get some exercise, Divvy Bike is for you. It is more convenient than owning your own bike because at any time, you can drop it off at a station and get a cab or an Uber. Or if you go home with a friend, you don't need to take your bike with you! It is also a bit cheaper than buying your own bike, and you don't have to worry about maintaining your bike or if it will get stolen.
If biking isn't for you make sure to read our Guide to Getting Around Chicago to learn about all of your options.
How to Get Started
The first step to taking a spin on the blue bikes is to download the Divvy app and choose a pricing plan. Plans start at $3 for a single ride and go up to a yearly membership for $99. Our recommendation is to buy the daily pass for $15 which gives you unlimited 3-hour rides.
Once you have chosen a plan and paid, you use the app to find a Divvy Bike station near you. Here, you can get a code from your phone and you enter it to get your bike. It's that simple! Once you are done with your ride, find a Divvy Bike station near you using your app and lock the bike back in. You do not need to drop it off at the stand you got it from! You can use any kiosk to drop it off, making Divvy even more convenient. Once you drop it off, you just need to wait for the green light and you're all good!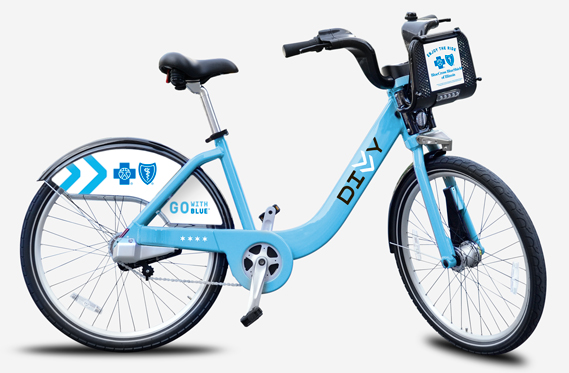 Not only does Divvy save you money, you are also reducing your carbon footprint. It's a win-win!
Currently, there are over 580 stations available around Chicago. If you look at their system map, it looks like there is a stand every block or so. This makes it very convenient for you, as you will most likely always be near a stand. With other similar services, stands could be limited making it hard to finish your return. Not with Divvy!
If you are a Chicago native, or just someone in town for a visit, you should consider using Divvy Bikes. You save time by avoiding traffic, you save money on gas/ride sharing, and you are going green. Download the app and get started today!